Holo manages payments on the Holochain network. It provides a peer-to-peer platform for decentralized applications with an aim to become a circulated Internet supporting application.
The best part is that Holo uses advanced technology to create better techniques to encrypt data and provides flexibility to the blockchain network. They also announced that it would be listed on the US-based exchanges after the Beta launch.
All this news impacts the price of the native coin HOT. But before investing in the HOT token, you must understand the difference between Holo and Holochain.
Holochain is a platform that allows all its users to build decentralized applications. Holo is the shared hosting platform that allows coders to host their apps and make them available worldwide. HOT is the repository of HoloFuel and can be transformed against it at a 1:1 ratio.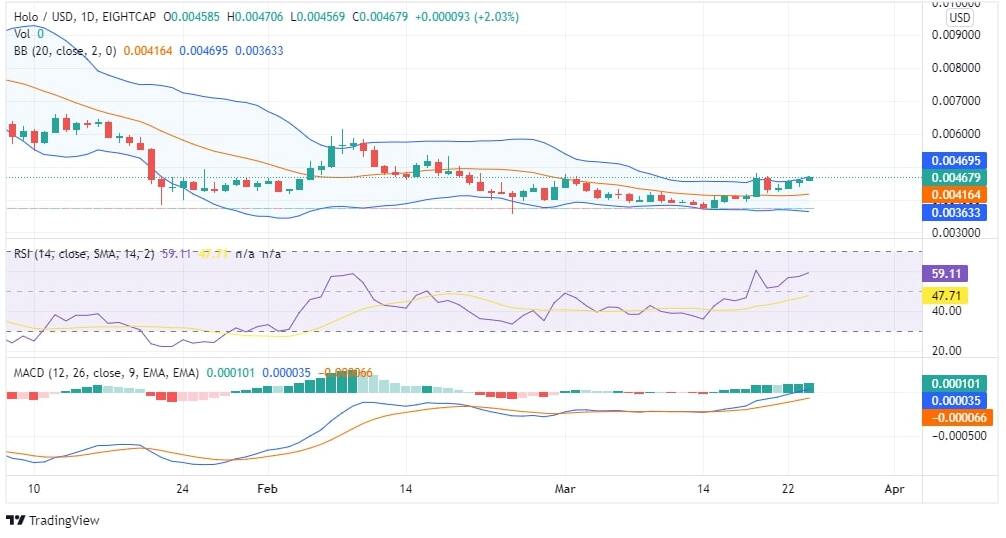 While writing, the HOT token was trading around $0.0046. The coin has been bearish for the past few days. But now, it seems to have taken a bullish turnover. At least, that is what the technical indicators suggest.
The MACD line is bullish on the daily chart, and RSI is around 60. Bollinger Bands also suggests that a price rally may happen as the current price has touched the upper band.
$0.0037 was the last support level, and the coin has been rising from that level. Now $0.004 will be the new support level. Indeed, as per the HOT Prediction, the coin shows bullishness in the short term, but it may retrace to the new support level in the long run.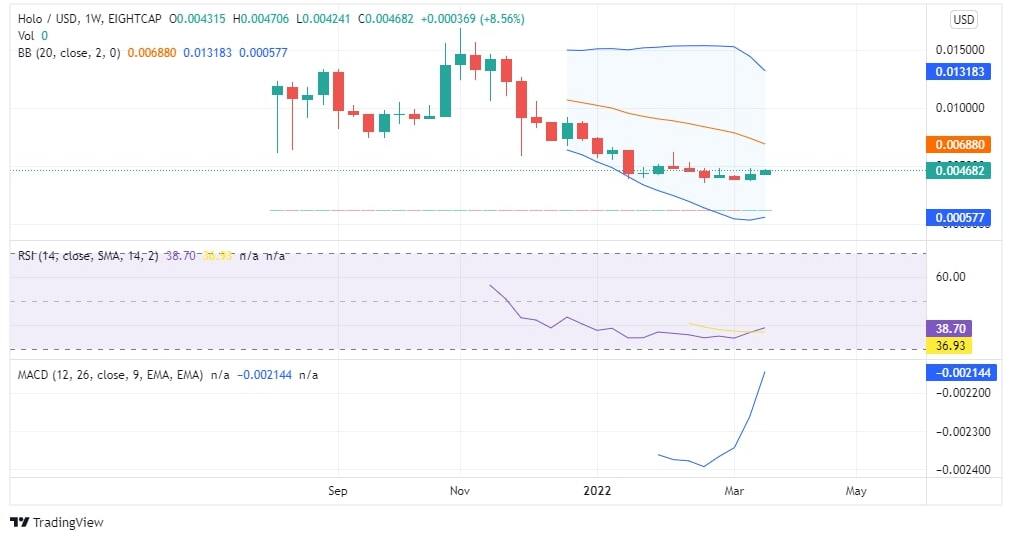 On the weekly chart, the price broke the support level at the beginning of 2022, and after that, it continued the downtrend. Moreover, technical indicators like Bollinger Bands, the MACD line, and RSI are all bearish.
We do not think it is the right time for investment, at least for the short term. Though the future might be promising, the coin's price is not bullish yet. However, any good news about the coin can disrupt all the technical analysis.