Decentraland is an Ethereum based decentralized protocol that uses the concept of a metaverse. It has a fully diluted market capitalization of $5,356,067,103 and ranked #32 based on market capitalization.
After a market sell-off in December, it lost half of its value, and now it seems to be in a recovery stage. MANA is the native coin on this platform used to pay for virtual lands and plots, and it can enjoy strong demand in the future as the concept of metaverse will popularize. Many institutional investors are focusing on metaverse and virtual real estate business.
The most important news is that global electronics giant Samsung used the Decentraland to build a mini-city called 837X. They had live-streamed the launch of this virtual city. The developers have been working on this blockchain project with a focus on increasing productivity, which will bring success for this coin. 
Many institutional investors are holding MANA for long-term capital gain, and it seems like a safer bet for them to hold the coin rather than panic-selling or profit booking.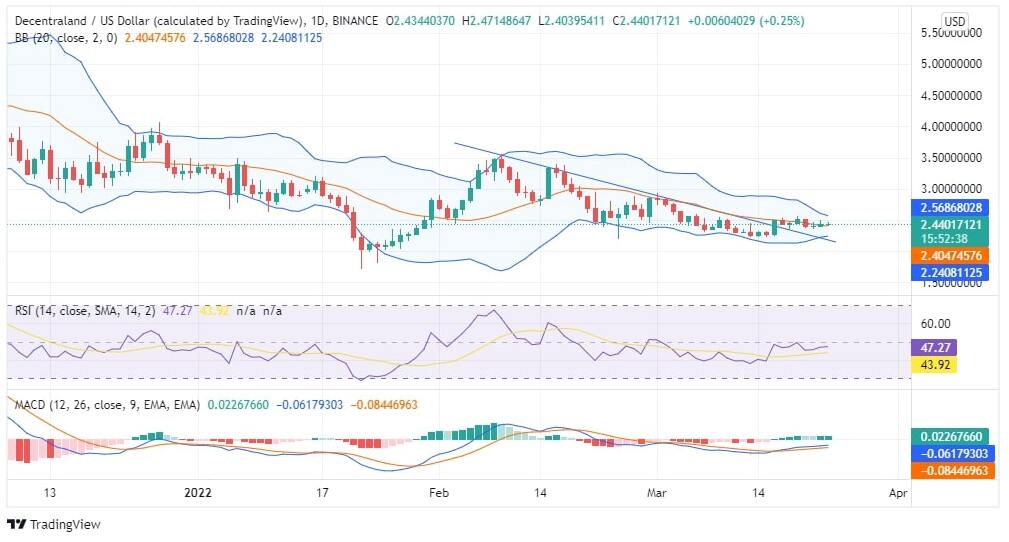 While writing, MANA was trading at around $2.44. At first glance, the coin looks like it is in a consolidation phase, but it has breached the downtrend line on March 16, and after that, it is taking support on the baseline of the Bollinger Bands.
On the daily chart, RSI is stable around 47, and the MACD line is also bullish. Bollinger Band indicates a lack of volatility in the coin. Since the daily chart is neither bullish nor bearish, we have to analyze the weekly chart for the long-term view. As per Decentraland coin price prediction, $2.80 will be a strong resistance level in the short term.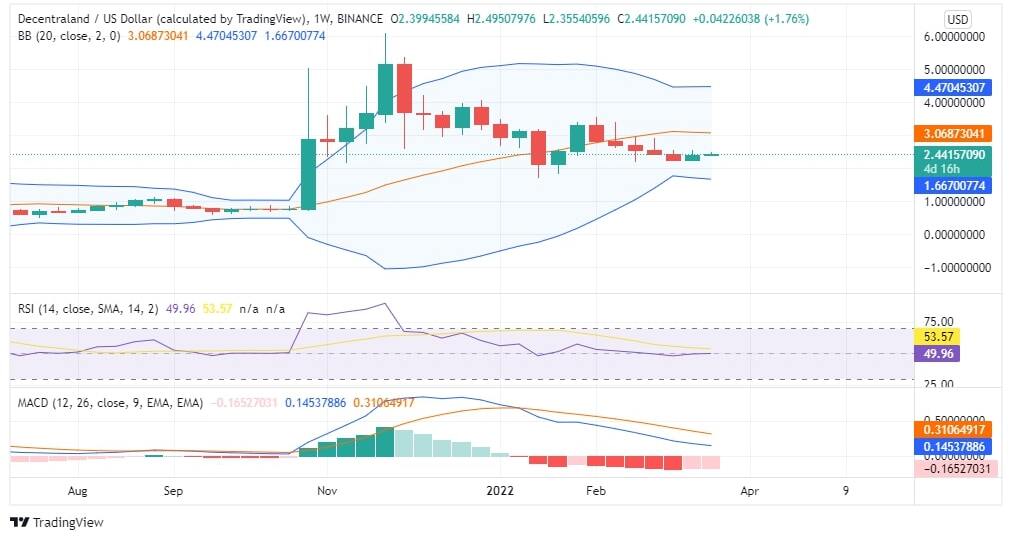 The weekly chart is also in a downtrend with a support level of $2.27, but if it continues with the bullish momentum, the resistance level will be $3.50 in the long term. Though RSI is stable at 53, the MACD line and Bollinger Band are bearish, suggesting the coin is bearish for the long term.
Should you invest in Decentraland? We think it is not the right time for long-term investment. On the other hand, some analysts believe it is the future of decentralized metaverse. Now, it depends on you- if you understand the fundamentals and concept of the coin, you can invest for the long term.