Litecoin has maintained a market position of 16th spot with a valuation of over $4.4 billion. The technicals showcase the positive movement to shift towards consolidation before a breakout can be expected. The outlook for LTC will dangle between uptrend consolidation and sudden profit bookings.
LTC supporters have shown tremendous confidence in the cryptocurrency and took complete advantage of the dip value. The decline to the support level of $49 acted as a buying signal for opportunistic buyers. The outlook for LTC has dynamically shifted towards bullishness within two days of price movement.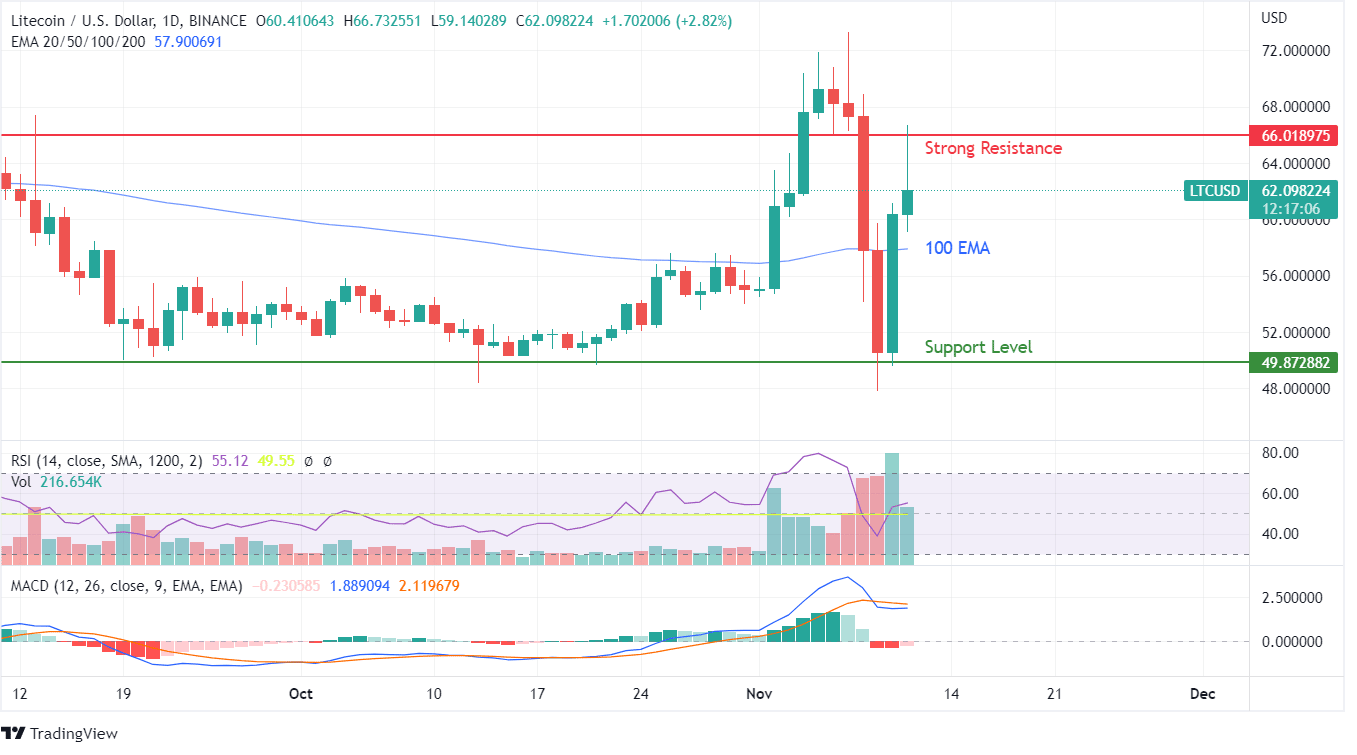 The huge decline within just three days seemed like a never-ending profit-booking streak. But buyers suddenly taking control of the crypto dump acted as a positive indication. While the daily losses were around 12% and 14%, the gains made on November 10 surpassed over 19%.
The buying trend thus led Litecoin to reach above the 100 EMA curve, which was a positive signal for short-term buying. Another important moving average, 200 EMA, would lie closely above the last trading value of $62.09. Combining the sentiment seen after the recent decline, the buying spree could last for a good time frame. 
The RSI technical indicator has made a major jump from oversold zones, which is always a good level for buying. RSI has jumped from the level of 40s to 55. On the other hand, MACD has made a major reversal in selling signals confirming a trend reversal.
The increase in transactional volumes witnessed in recent days is a direct result of the price action. In the short-term timeframe, Litecoin showcases wicks on both upper and lower sides, which confirms the profit booking of buyers who took advantage of its dip and landed decent profits in the shortest time interval.
Current price action shows a marginal decline from its peak of November 11, 2022, confirming mixed relations. On weekly charts, the price action is already moving towards a positive signal as a huge buying sentiment is visible that makes momentary gains even higher than last week's peak.